US and China will have many more battles to fight when the trade war ends
Negotiators are focused on resolving a long-running tariff dispute but the conflict between Washington and Beijing extends far beyond sales of soybeans and aluminium
Technology, politics, ideology and even the military are all areas where tensions could bubble over, analysts say
China and the United States appear closer than ever to an accord that would end their trade war but policymakers and investors are not popping any champagne.
As Washington's top trade negotiators prepare to meet their counterparts in Beijing on Tuesday amid expressions of confidence that China's markets will further open up, many with stakes in the talks' outcome are focused on other developments – like the US government's recent moves against a Chinese company that owns a popular gay dating app.
Rarely does a week go by without an announcement about US sanctions against Chinese companies, espionage investigations or warnings from lawmakers that the US military must prepare for a hot war with China.
The trade deal that is likely to come within weeks will be barely enough to slow a less visible but more lasting clash. Many believe more serious conflicts between the two countries are just unfolding.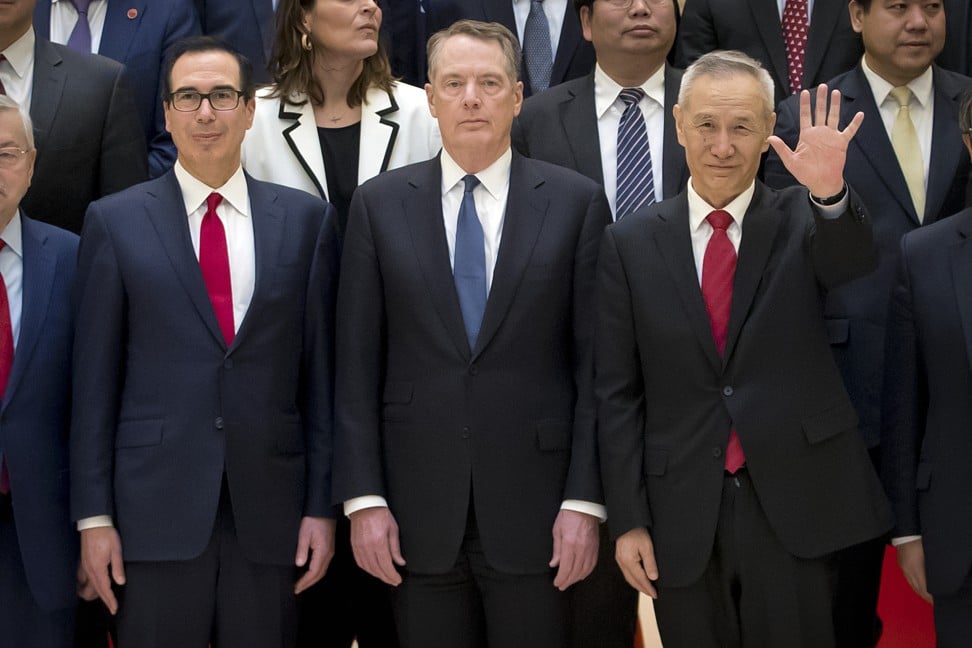 Chinese Vice-Premier Liu He (right), US Treasury Secretary Steven Mnuchin (left) and US Trade Representative Robert Lighthizer will resume their trade talks in Beijing on Tuesday. Photo: AP
"US-China relations have entered a competitive phase that goes well beyond trade disputes," Richard Turnill, lead researcher at BlackRock, the asset management giant, wrote in a global outlook report this month.
"Tensions have broadened to include technological, political, ideological and military dimensions – and we see them as long-lasting." He warned investors against confusing "any trade truce with a detente in the overall relationship".
US-China trade war talks set to resume in Beijing
As if to punctuate the point, on Friday FBI director Christopher Wray told the Council on Foreign Relations in Washington that China was determined to "steal its way up the economic ladder" at the United States' expense, warning of a "multilayered" counter-intelligence threat posed by Beijing.
"China has pioneered a societal approach to stealing innovation in any way it can, from a wide array of businesses, universities and organisations," he said.
A deal in sight, but just a reprieve
As US Trade Representative Robert Lighthizer and Treasury Secretary Steven Mnuchin gear up for the next round of negotiations with China, analysts have spoken of the talks reaching their "endgame" and say the two sides are seeking to reach a draft agreement by the end of May. US President Donald Trump said on Thursday that 
 would be coming soon to the White House.
The question is what would such an agreement cover. The most likely component – a reprieve on tariffs – would only alleviate short-term US trade deficits through China's promise to purchase more American goods.
Thornier issues remain to be resolved: the need for China to protect intellectual property, the end to its forced technology transfers, other non-tariff market restrictions. Above all, of course, is whether China will actually follow through on its pledges in any agreement the two sides strike.
Under the guidance of the Trump administration and with bipartisan support in Congress, numerous federal agencies are confronting China as the two largest economies in the world battle for economic, technological and ideological dominance.
The treasury department has issued sanctions, defence has sought terminations of academic cooperation agreements, state has revoked visas, and various agencies have combined to quash proposed business mergers.
"It's a fascinating thing," said John Scannapieco, chairman of the Baker Donelson law firm's global business team in Nashville, Tennessee, which represents many Chinese businesses.
"Even if there is a trade deal, it's not going to be an 'aha' moment that will change the US-China relations. The battle has only just begun."
And it was not an issue solely about Trump, he said. "If Trump left office tomorrow, this isn't going away. And it's true for China. Both sides see the potential of greatness if you win and great harm if you lose."
A dating app with issues
In the midst of the increased animosity, virtually any business, or increasingly any individual, with a Chinese connection is feeling the heat. Oddly enough, Grindr – a popular gay dating app – was the most recent Chinese acquisition that failed to clear a US review.
This month, the Committee on Foreign Investment in the United States, an inter-agency government panel that reviews foreign deals, demanded that Grindr's owner, gaming company Beijing Kunlun Tech, sell the app because of national security concerns that Grindr data can be used to blackmail government personnel. (The company bought a 60 per cent stake in Grindr for US$93 million in 2016, then made an outright purchase last year.)
Early last year, Trump used similar justifications – that data about US military personnel could be leaked to Beijing – to block Ant Financial's US$1.2 billion proposed acquisition of the global payment services provider MoneyGram.
The US was worried because Ant is affiliated with Alibaba, China's largest e-commerce retailer and its chairman Jack Ma frequently appears with top Chinese government officials. Alibaba also owns the South China Morning Post.
Fears about the Chinese owning US businesses – really, any deals that involve the Chinese – have risen, analysts say. Because many Chinese companies limit the amount of financial and organisational information they disclose, and are less than transparent about the information they do provide, the US is concerned that their relationships with the Chinese government could be hidden. Many US officials and analysts also believe that large Chinese companies all operate under the auspice of Beijing, with or without direct financial support.
US says Chinese ownership of Grindr is a national security risk
For many, whether Grindr data could put some key US personnel in a vulnerable position is a serious issue.
"What's concerning is the [current] US government tends to escalate the tension. I am concerned about where this is going," said Amy Celico, a former China negotiator with the US trade representative's office who leads the China team at the business strategy firm Albright Stonebridge in Washington.
"The question is whether this is going to set the precedent and where we draw the line."
Adam Segal, a senior fellow at the Council on Foreign Relations on cybersecurity and China studies, agreed.
"My concern is not that the national security concern is misplaced. I'm concerned the implementation is going to be too broad," he said.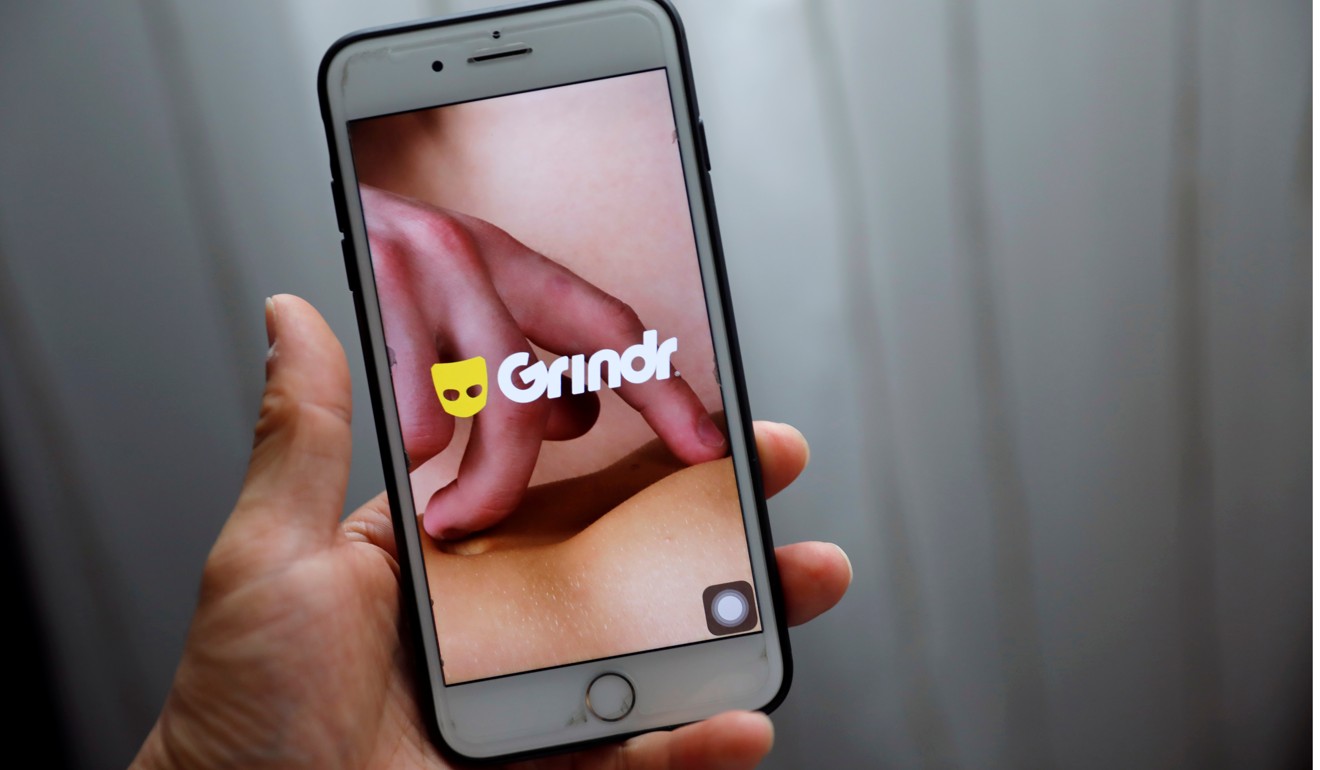 US officials are concerned that Grindr data could be used to put key personnel in a vulnerable position. Photo: Reuters
The chilling effect has already set in. Chinese investment in US companies dropped 94.6 per cent last year to US$3 billion, from US$55.3 billion in 2016, according to research firm Mergermarket.
"Most Chinese companies don't even try any more" to invest in the US, said Jeffrey Sun, a lawyer at the Orrick law firm in Shanghai. "It's a shame because a lot of capital is waiting to be deployed, but people are too fearful."
Chinese buyers have been frequently backing out of bidding for US businesses since last year, multiple deal makers said without disclosing specific transactions because the processes were not public. One Chinese company, for example, pulled its bid in the second round for a US Fortune 500 consumer company after the trade war started to heat up, said a person familiar with the deal.
Leaning hard on sanctions
As well as restricting merger deals, the treasury department has been wielding sanctions as a tool to battle China, most prominently in the technology sector.
Two top Chinese telecommunications giants – 
 – are embroiled in cases stemming from violating US business sanctions against Iran and North Korea, respectively.
ZTE was cut off from buying components from its American suppliers last year, a penalty that forced it to close operations – until Trump reversed it, ostensibly as a favour to Xi.
Huawei and its US subsidiary have been charged with doing business in Iran through a shell company, Skycom, and defrauding banks about it. Court hearings are expected to resume next month.
Some US sanctions experts have voiced concerns that the measures intended to punish entities that defy US foreign and national security policies are being applied for political purposes – and overused.
Time's up for China over Iranian oil purchases, US says
Last year, the US announced 1,373 cases of sanctions, compared to roughly 600 on average in previous years, according to the treasury department's Office of Foreign Assets Control (OFAC), the unit in charge of sanction designations and executions.
But fewer actions were taken in these cases, Bob Werner, a former OFAC director, said – that is, more transgressions were called out, but less punishment was enforced.
Last month, the treasury sanctioned two Chinese shipping companies – Dalian Haibo International Freight and Liaoning Danxing International Forwarding – saying both had helped North Korea evade trade restrictions. The treasury shut down the companies' access to the US financial system.
A day later, though, in a confusing post on Twitter, Trump said he had "ordered the withdrawal" of the sanctions.
It was announced today by the U.S. Treasury that additional large scale Sanctions would be added to those already existing Sanctions on North Korea. I have today ordered the withdrawal of those additional Sanctions!

— Donald J. Trump (@realDonaldTrump) March 22, 2019
Werner, now the founder of Green River Hollowing Consulting in New York, said such moves were disruptive and undercut the effectiveness of the penalties. "It's important to have integrity in every action," he said. "And it's particularly important that designations are issued based on principles of the programmes, not on some ulterior motive.
"If you don't do that, you can undermine the credibility of sanctions generally."
The brewing 'visa war'
Another battle front in the US-China hostilities is a rising "visa war".
The two countries have generally welcomed each others' scholars and students since their diplomatic relationship was established 40 years ago.
In a sharp reversal, several prominent Chinese scholars said that in recent months they had been questioned by FBI agents about allegedly spying for Beijing.
Earlier this month, The New York Times reported that the US revoked multi-year and multiple-entry visas for the Chinese scholar Zhu Feng of Nanjing University. According to the report, Wu Baiyi, director of the Institute of American Studies at the Chinese Academy of Social Sciences, had his visa cancelled after he was interviewed by FBI agents in Atlanta, when he attended an event there in January at the Carter Centre.
Calls for ceasefire in 'visa war' targeting academics
The academic clampdown goes further: last year, a state department official confirmed in a Congressional hearing that embassies and consulates had received instructions to limit Chinese postgraduate students to one-year visas in certain fields of study. Those areas, Associated Press reported, are in technologies like robotics, aviation and manufacturing.
"The US economy is being hurt as many talented and skilled Chinese students and professionals seek to go elsewhere, because of increasingly restrictive immigration policies and legal proceedings that unfairly target Chinese," said Amiad Kushner, a litigation partner at New York-based law firm Dai & Associates. Kushner represents Chinese businesses and individuals in the US and US businesses with China-related lawsuits.
The Chinese embassy in Washington, seemingly in retaliation, did not issue visas to Trump's top China adviser Michael Pillsbury and former deputy special trade representative Wendy Cutler, causing them to miss a forum on China's international relations in Beijing this month.
Pillsbury, director of the Centre on Chinese Strategy at the Hudson Institute, told the South China Morning Post that "we need to cease fire in the 'visa wars' that prevent American experts on China from visiting China and Chinese experts on America from visiting America".
China's retaliation also seems to be spreading to foreign investments. A newly proposed 
, which China says is its latest effort to level the playing field between Chinese companies and American businesses operating in China, mirrors the US method of reviewing potential foreign acquisitions for national security threats.
"US businesses and their executives may face an increased risk of retaliatory action imposed by the Chinese government in response," Scannapieco said. "This is not about giving foreign companies some advantage. It's going to somehow lessen the standing of the foreign companies and take away the preference that remained. Whatever remained will be gone."
Confucius sent packing
Hostility has also risen on college campuses. In the past year, more than 10 US colleges have closed Confucius Institutes, a language and cultural programme financed by the Chinese government.
FBI director Wray told Congress in February that the agency was concerned that the institutes were advancing the political aims and practices of the Chinese government. US Senators Marco Rubio of Florida and Ted Cruz of Texas, both Republican, loudly criticised the institutes as threats to academic freedom and said they were national security risks. Democratic counterparts followed suit.
China to 'optimise' spread of Confucius Institutes
When all is said and done, according to analysts, at the centre of the frictions between the US and China is a fight for economic supremacy. And technology spells that future.
So while both Trump and Xi need a trade deal, larger issues remain.
"China wants to be No 1 in the economy. It wants to lead in tech," Scannapieco said. "They don't have 50 years to build it. They need it now.
"Because they know who controls technology, controls everything."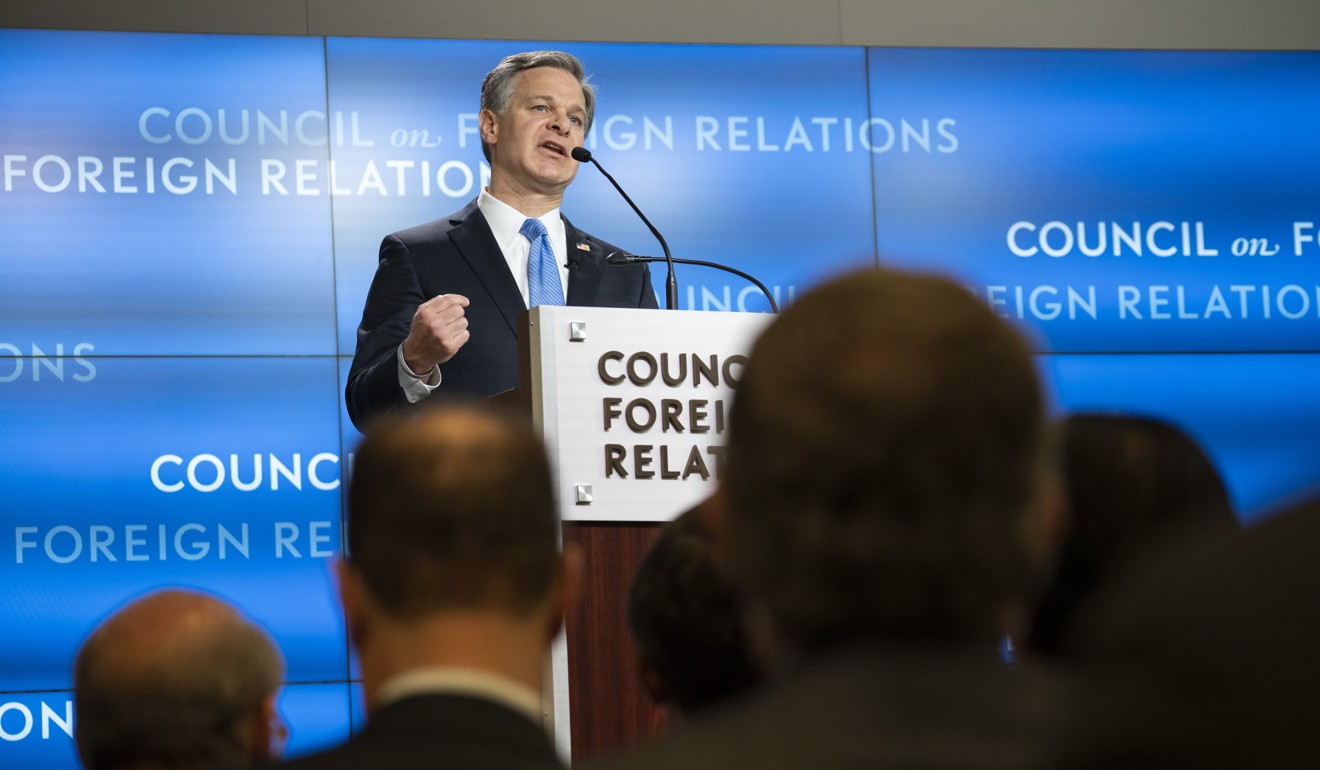 FBI director Christopher Wray said in February the agency was concerned that Confucius Institutes were advancing the political aims of the Chinese government. Photo: Bloomberg
This article appeared in the South China Morning Post print edition as: Trade war is merely one round in US-China bout
01.05.2019